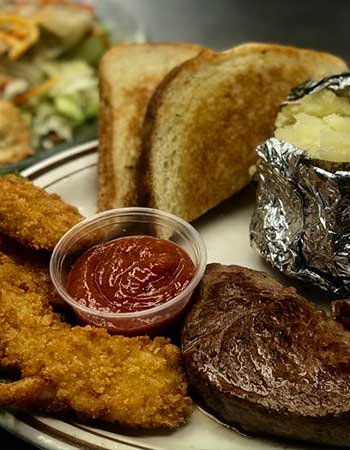 IT'S FAMILY TIME AT LAKE CAFE
Lake Cafe is a small, hometown cafe offering a full menu with breakfast, lunch, and dinner options. Inside, you'll find delicious food and that mom-and-pop family restaurant feel you simply can't get with big chains. Whether you come in when the doors open at 5:00 a.m. for breakfast, or you're here for a late-night dinner, you'll find a comfortable atmosphere, delicious food, and a friendly, courteous staff that's here to meet your needs.
Choose from our regular specials to save some money, or splurge a bit and pick a favorite off our menu. Whatever you choose, it'll be fresh, cooked to order, and made just for you! We accept walk-ins, reservations, and groups; and we're a great place for kids, too. Sit down and enjoy our excellent tableside service or order what you love to go. Though we're not a sports bar, we have two TVs that are usually tuned to sports so you can keep up with all the big games.
Lake Café is as much a family tradition as it is a family diner. The restaurant was purchased by my parents, Ronald and Ethel Cox, in May 1968, bringing the couple's dream of owning and operating a small business to reality. Tragically, just six months after opening, Dad passed away at the early age of 51. Over the course of the next 34 years, Mom worked endlessly to build a business she was very proud of.
After she passed away in 2002, we purchased the restaurant from the family and we have been working hard as we continue to offer our customers the same great food and friendly atmosphere this business was built on. In fact, many people have become more than just customers: They have become friends.
We feel Mom would be pleased to know the business stayed in the family and we will continue to keep the hometown feel, delicious food, and excellent service to make her proud. We provide great breakfast, lunch, and dinner options and look forward to seeing you soon.
Tim and Tami Cox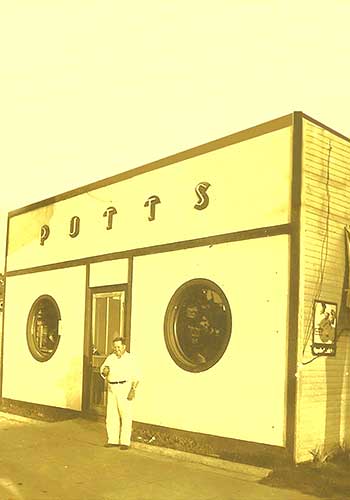 Follow, Like and Share with us on Facebook! Stay up to date on the latest specials, news and events at the Lake Cafe.
TESTEMONIALS
"Overall if you're looking for a cute little quaint café to go to I would highly recommend the Lake Café and will definitely be back there again!"
Katie W.
"Always great food, friendly staff, and short wait times on orders! We frequent this place and love all things on their menu especially the buffet specials!"
Angie M.
"I got home before the wife and decided to take her out for dinner since she worked so late. Great decision, food was great, service was fast pleasant and they did the dishes. Kind of pricey for a small town cafe' was my first thought, but on second thoughts it was worth every penny and it keeps my money local."
Ray B.
"The service was super friendly! The liver and onions was awesome! We will definitely be back. I did notice the condiment caddies were quite dirty and very unorganized and overflowing so I had to straighten the one at my table."
Niki A.
"Good home cooking - great taste- generous portions and courteous, down home service at great prices. Nice specials. My favorite is the hamburger steak special."
Ann E.